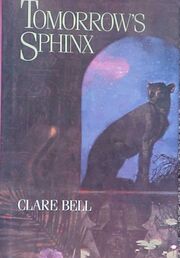 Tomorrow's Sphinx
is a stand-alone novel wrote by
Clare Bell
and published in 1986.
It's unrelated with the Saga of the Named but bears a number of common traits.
Similarities with the Saga of the Named
Edit
The book has a female feline as protagonist, a black cheetah named Kichebo.
Themes and contents match the ones of the Saga of the Named, including descriptions of drama, death and mating-behavior, making the book a "young adult" rating novel.
There are a number of common terms and features comparing the book with the Saga of the Named. Some words and terminologies are common: Kichebo calls her aunt/adoptive mother "Nassi-mother" exactly as Thistle-chaser calls Ratha with the term "Ratha-mother". As Thistle-chaser, Kichebo chose her own name after the name of an animal that reminded her own physical condition (Thistle-chaser called herself "Newt" due her limp-leg, Kichebo chose the name of a fish with black color as her own pelt).
As in Ratha's Courage, a group of male cheetah is shown to display a mating circle, but the aims are not to coerce a non-consenting female (as happens in Ratha's Courage), but rather to put the males on show and allow them competing for the privilege to mate with the consenting female for first.
List of Characters
Edit
Cheetahs:
Kichebo (protagonist - a female black cheetah)
Nasseken ("Nassi-mother", aunt and step-mother of Kichebo)
Gray Cape (older wandering female)
Rahepsi (male cheetah)
Beshon (another aunt of Kichebo)
Kenket (mother of Kichebo)
Bahkti (female who joined Rahepsi's group)
Humans:
Menk (Menkataten)
Tiye Aasit
Cheetahs:
Asu-Kheknemt (co-protagonst, a black male cheetah)
Neba Resu (son of Asu-Kheknemt)
Humans:
Tutankhamen (young pharaon and companion of Asu-Kheknemt)
Aye (uncle of the pharaon)
Horemheb (general)
Ad blocker interference detected!
Wikia is a free-to-use site that makes money from advertising. We have a modified experience for viewers using ad blockers

Wikia is not accessible if you've made further modifications. Remove the custom ad blocker rule(s) and the page will load as expected.